iSlipstick RF has all of the calculators and converters that iSlipstick has plus many specifically for RF work.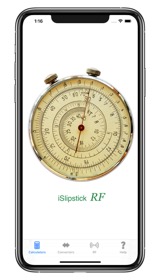 Besides everything that the standard iSlipstick has,
iSlipstick RF also includes the following calculators:

PATH LOSS -
Find the total link loss from transmitter output to receiver input including fade margin.

DISH BEAMWIDTH and GAIN -
Find the 3 dB pattern points and gain of a circular dish.

WAVELENGTH -
Find the full, half and quarter wavelength of a frequency in metric and US Imperial.

RETURN LOSS & VSWR -
Find the VSWR, reflection coefficient and return loss of a transmission system.

FRESNEL ZONE -
Determine what clearance is needed for an RF link.

VELOCITY FACTOR -
Find velocity factor from dielectric constant and determine delay from
cable length and vice-versa.

INTERMODULATION -
Find the second, third, fifth and seventh order harmonics from
up to 6 fundamental frequencies.

IF CALCULATION -
Find down converter output IF and spectrum inversion.

INTERCEPT POINT -
Find the second or third intercept point of an amplifier.


Purchase iSlipstick RF on the iTunes App Store.